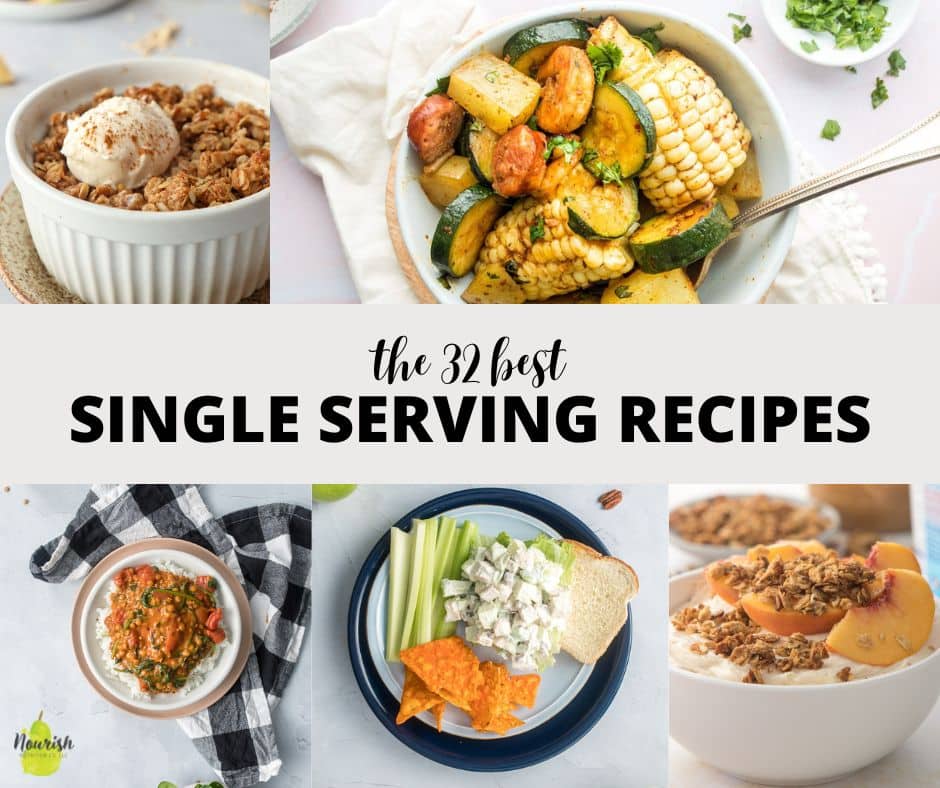 The Best Single Serving Recipes
Cooking for one is hard for lots of people, but with a toolkit of easy single serving recipes, cooking tips, and meal planning tips, it can be easy, enjoyable, and totally doable. No more boring dinners because it doesn't seem worth it!
Cooking for One Tips
These single serving recipes are a great place to get started if you cook for one, but here are a couple easy cooking for one resources to make cooking easy and more enjoyable.
Breakfast Recipes for One
Peanut Butter Yogurt
Make this 3 ingredient peanut butter yogurt bowl for a delicious high-protein breakfast. It's great with granola or used as a snack dip for apples and graham crackers.
Check out this recipe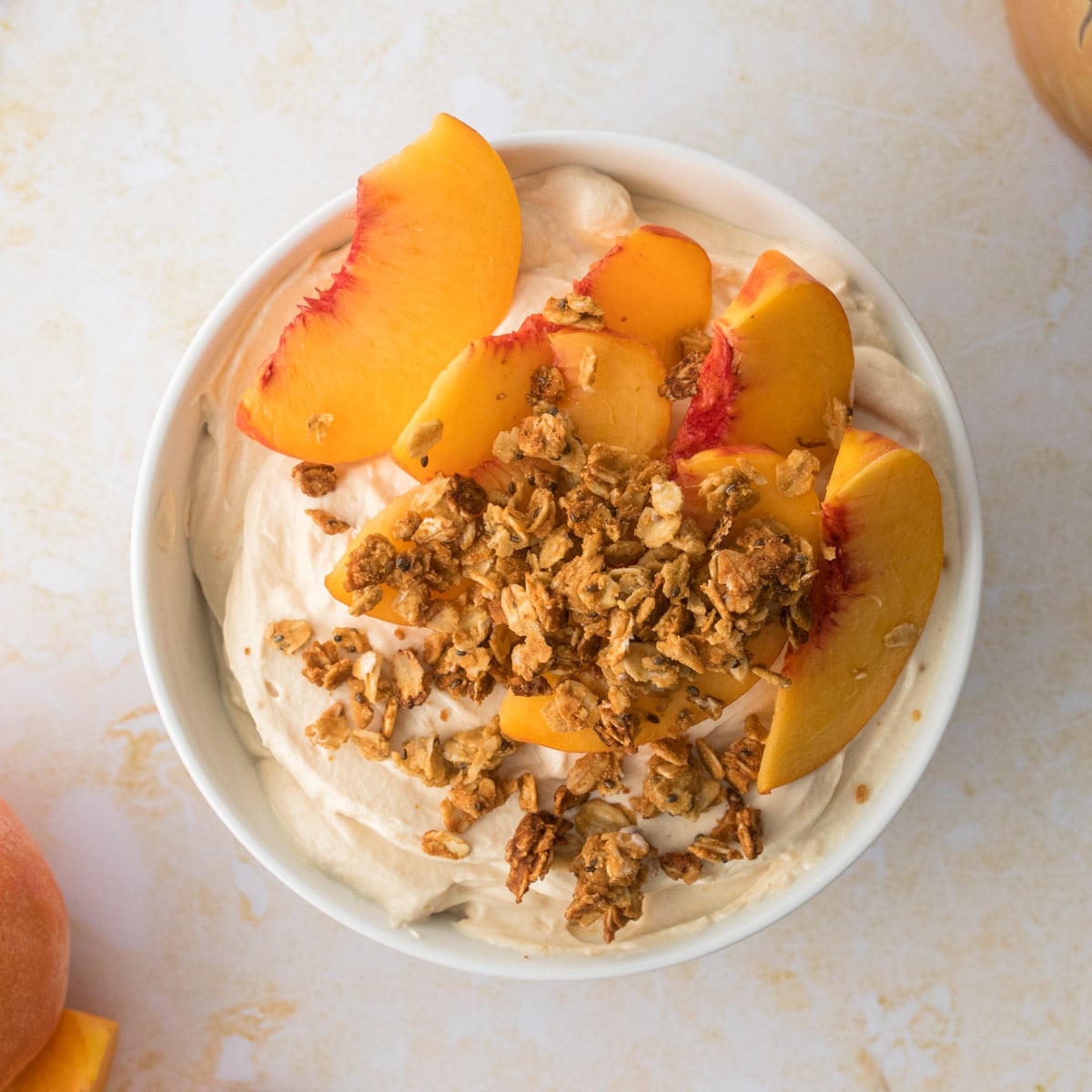 Microwave Egg in a Cup (or bowl)
Make this easy microwave egg in a cup (or bowl) for a quick breakfast for one, it can be made in under 10 minutes and is ready to grab and go. It's fluffy, creamy, and you can add so many delicious toppings!
Check out this recipe
Baked Oats for One
Quickly assemble this baked oats for one and let your oven do all the work while you're getting ready for the day.
Check out this recipe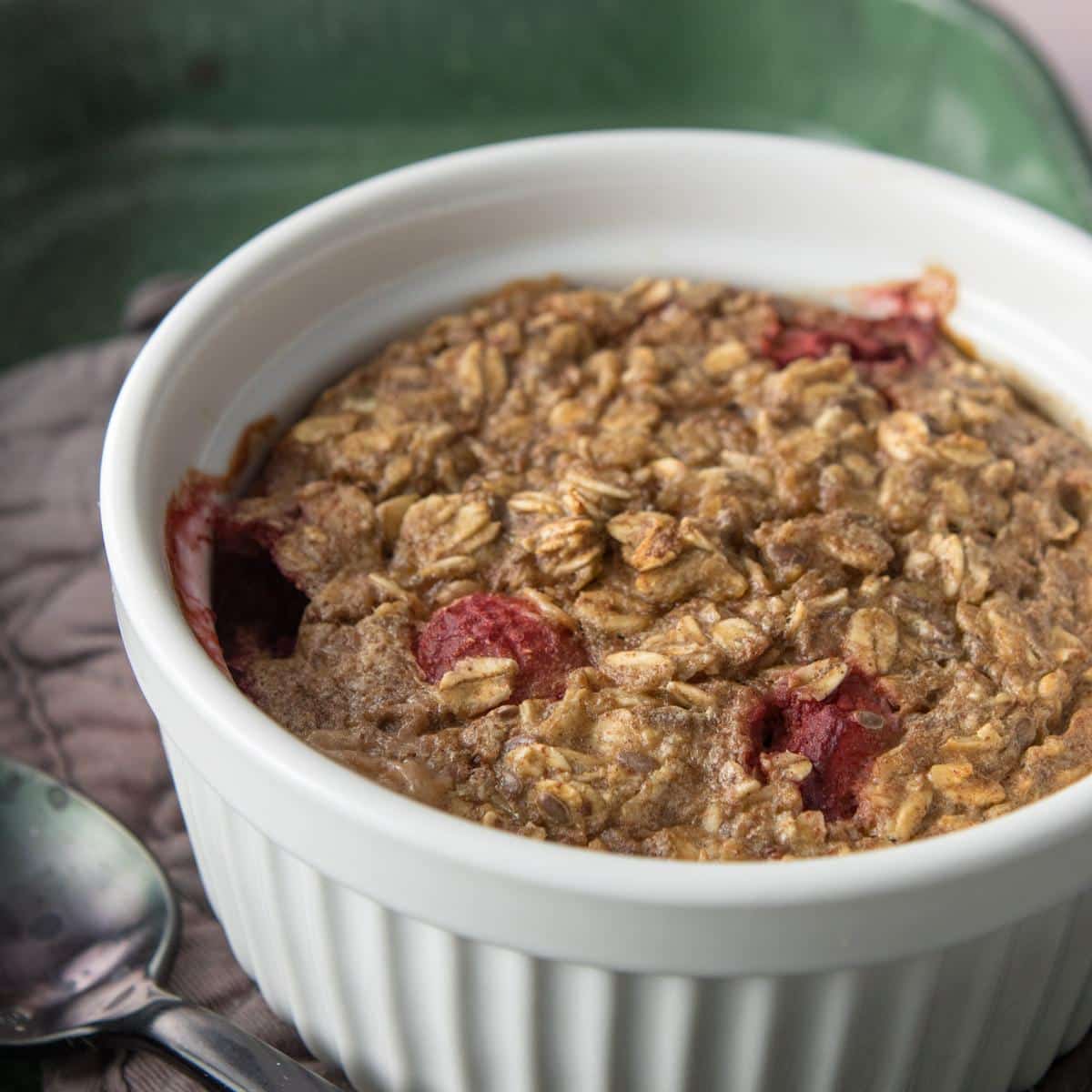 Apple Pie Overnight Oats
Microwaved apples, cinnamon, and maple syrup turn into a syrupy soft, topping for your new favorite fall breakfast: apple pie overnight oats. This recipe still takes just 5-7 minutes to make, and will make your morning so delicious.
Chicken Recipes for One
Chicken Pecan Salad with Apples
This chicken pecan salad, just like other chicken salad recipes are fantastic throw together lunch or dinner. Use precooked chicken, crisp green apple, pecans, and a Greek yogurt/mayonnaise dressing for a tangy salad.
Check out this recipe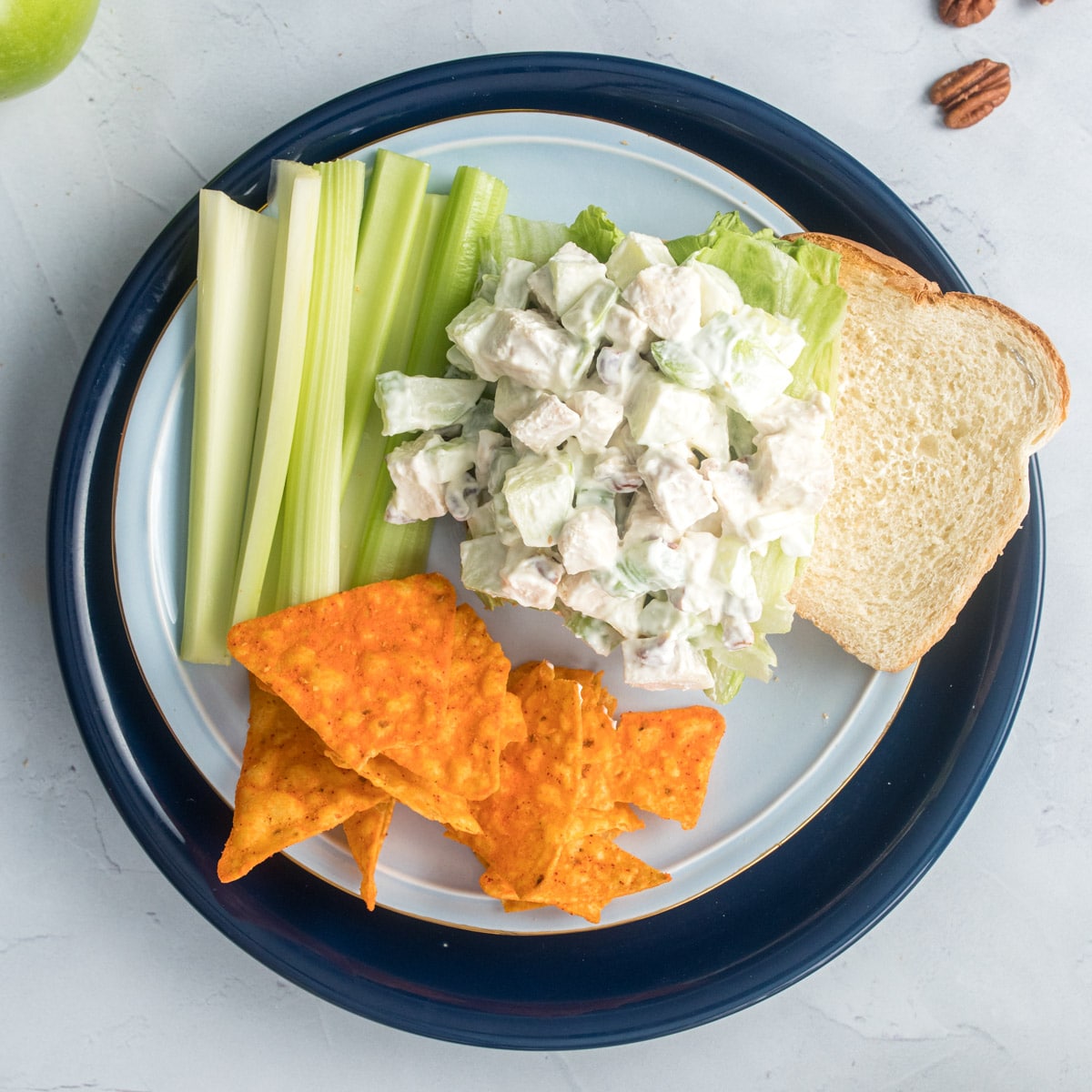 Creamy Mushroom Chicken with Rice
This comforting, cheesy, creamy mushroom chicken with rice is the perfect fall recipe. It's done in about 25 minutes in just one pot, so you can have a delicious dinner in no time and with just a bit of clean-up.
Check out this recipe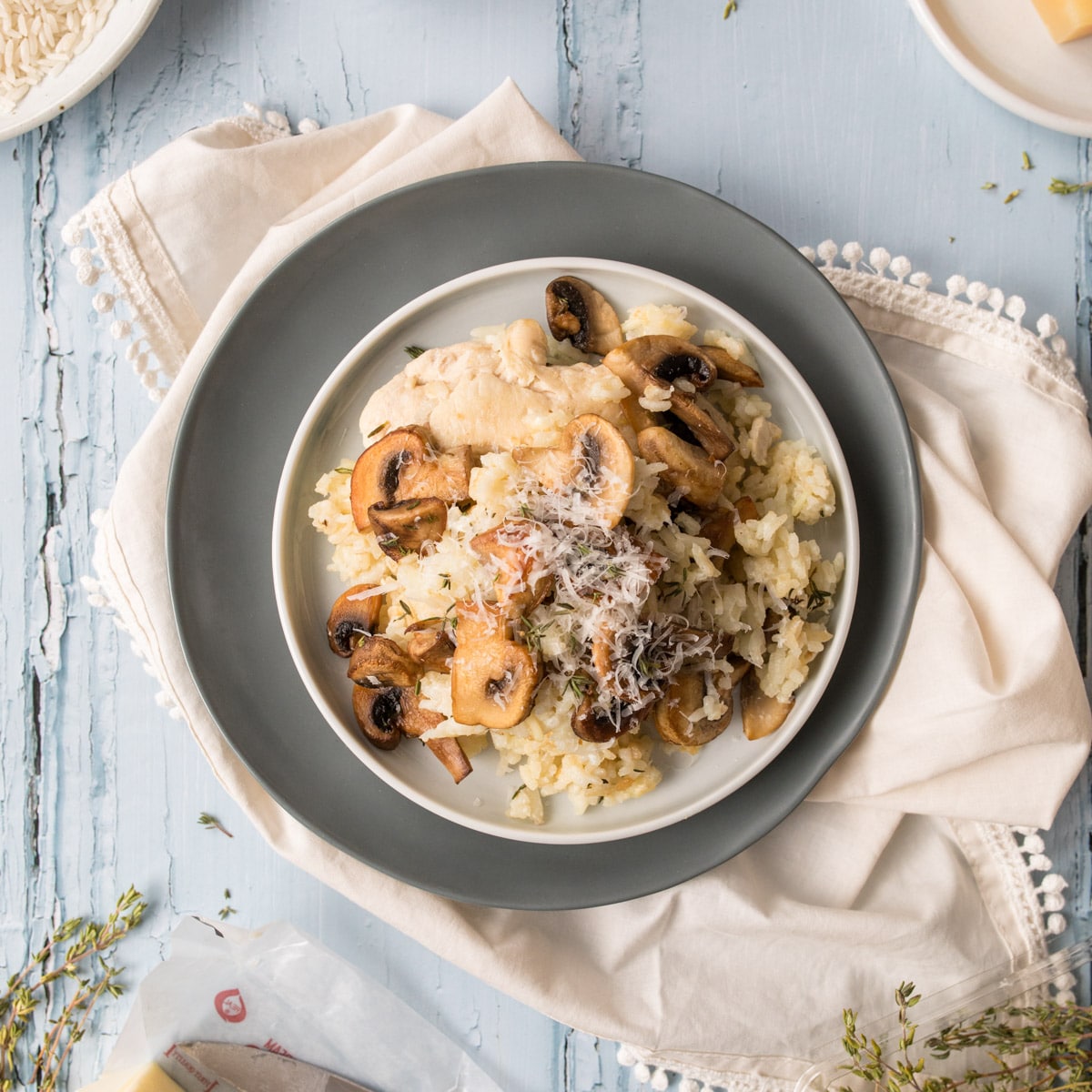 Watermelon Chicken Salad
Bring watermelon onto your dinner plate with this easy watermelon chicken salad. It's made with sweet juicy watermelon, tender chicken, peppery arugula, salty feta, and chewy barley. This salad is summer on a plate, no doubt!
Check out this recipe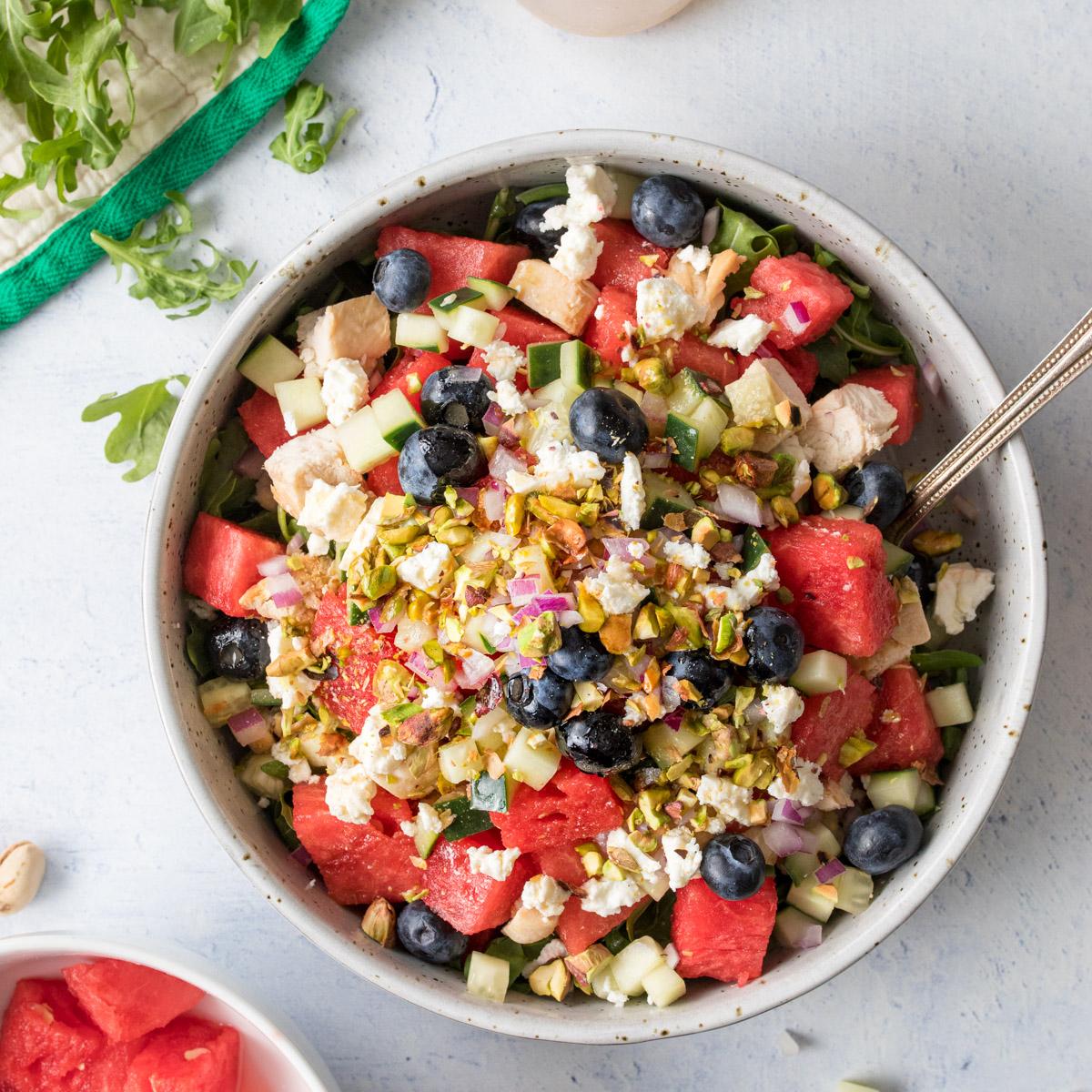 One Pot Chicken Parmesan Pasta
Make this 20 minute, pantry ingredient, one pot chicken parmesan pasta with crispy breadcrumbs instead of traditional crispy, cheesy chicken parmesan without the extra time, steps, and mess.
Check out this recipe
Chicken Bacon Sheet Pan Dinner
This easy chicken bacon sheet pan dinner with brussels sprouts is the best way to enjoy fall and winter flavors without much effort at all. I mean, you literally let your oven do all the work. It just takes about 45 minutes from start to finish, and you can let your oven do 90% of the work.
Check out this recipe
Instant Pot Chicken and Mushroom Soup
This creamy, comforting chicken and mushroom soup with wild rice is the perfect winter recipe to warm up with. It just takes about 15 minutes hands-on time and is ready to eat in about 50 minutes. Use frozen chicken to make it even easier!
Check out this recipe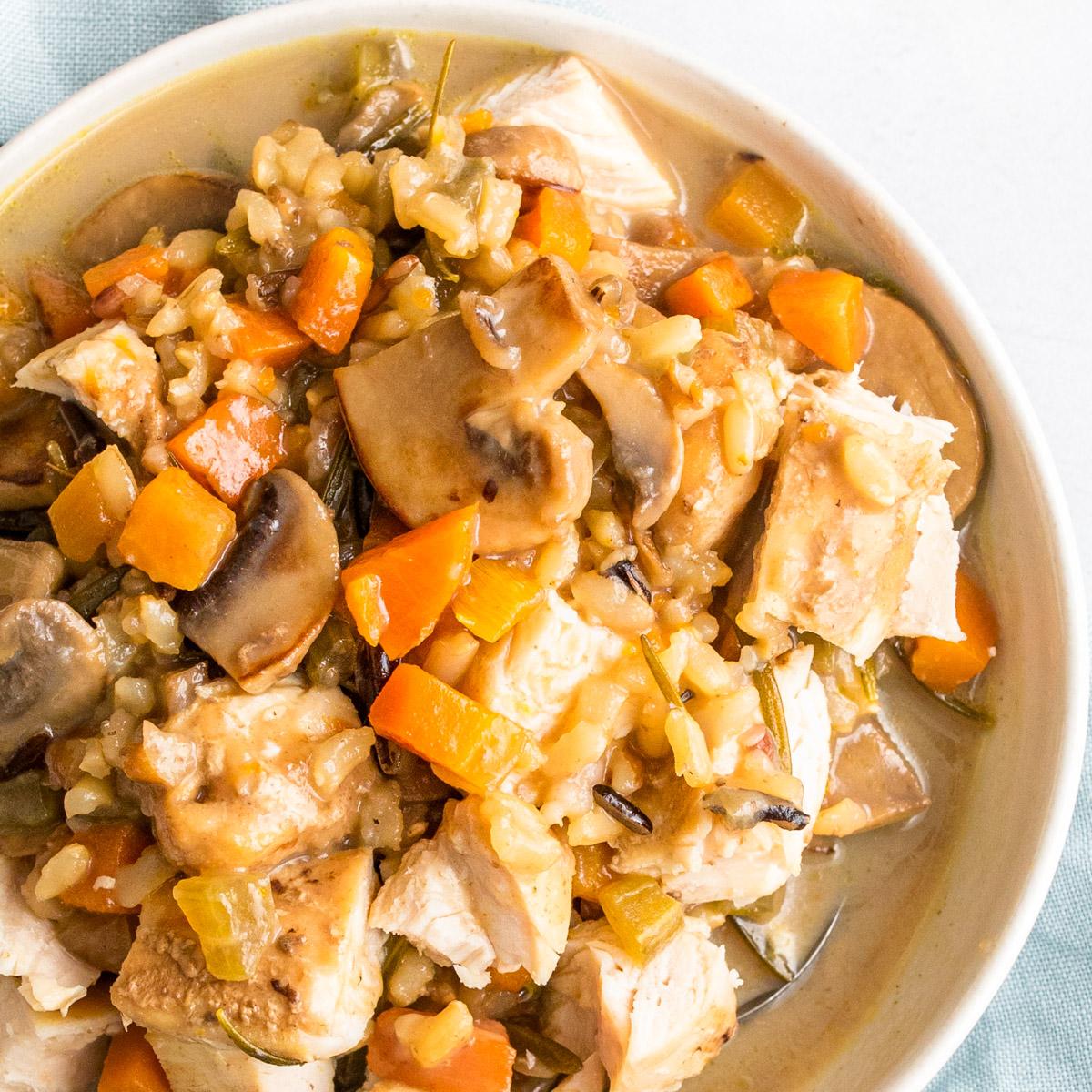 Buffalo Chicken Flatbread
This easy buffalo chicken flatbread recipe is tangy, spicy, and cheesy. It's perfect if you've got precooked chicken and a few random vegetables. This pizza, depending on the size of your flatbread, serves 1-2 people.
Check out this recipe
One Pot Chicken Bacon and Mushroom Pasta
Combine the best salty, earthy, and meaty flavors in this 20 minute creamy one pot chicken bacon and mushroom pasta. Quickly cook your pasta while preparing your mushrooms then add it back after cooking the meat and mushrooms for a super easy one pot dinner for one.
Check out this recipe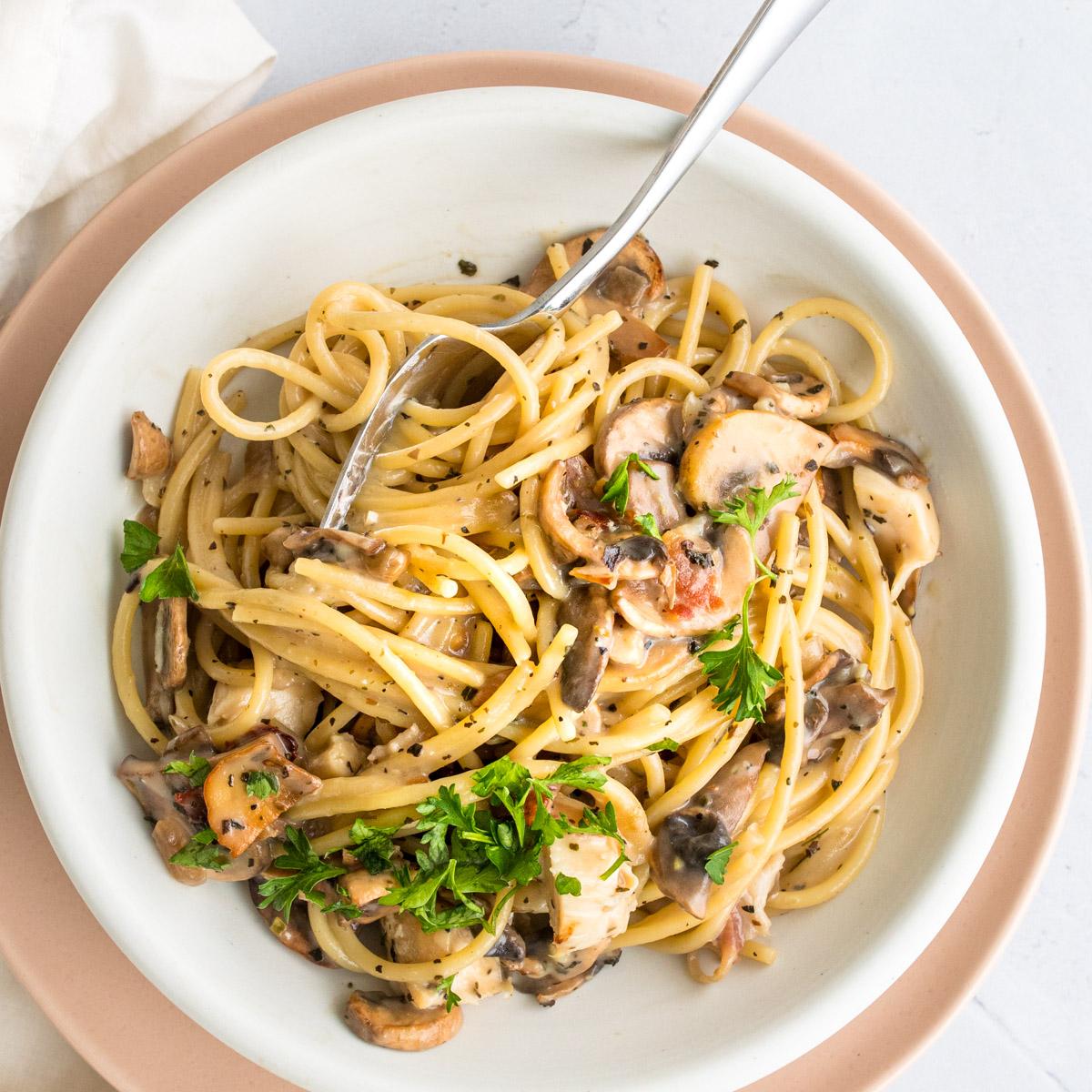 Vegetarian Recipes for One
Protein Mac and Cheese
Craving a high protein mac and cheese recipe that's silky, creamy, and cheesy? One secret ingredient in this pasta recipe adds silkiness and protein without changing the taste of this delicious macaroni and cheese.
Check out this recipe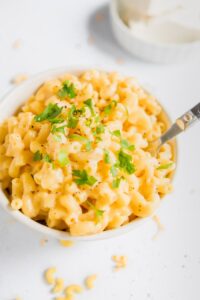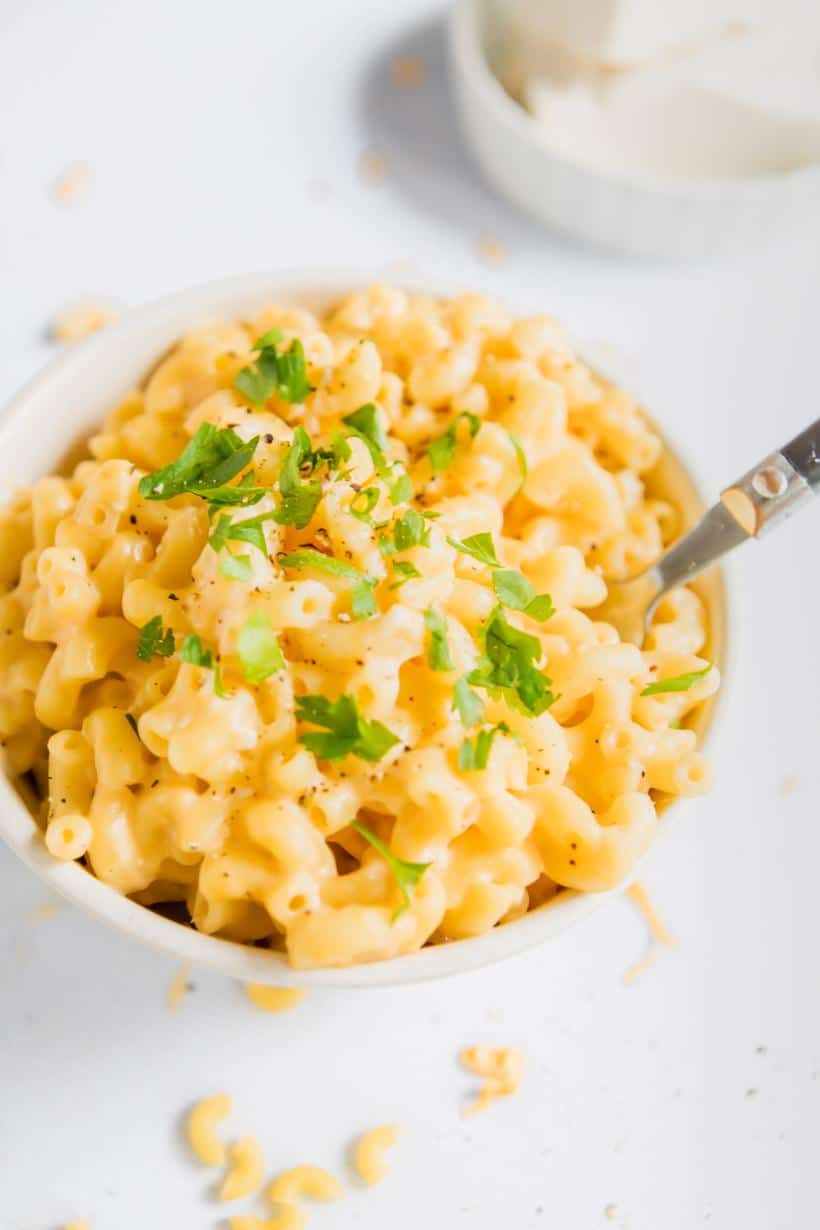 Coconut Green Lentil Curry
This easy and delicious lentil spinach curry recipe for one is a great way to try out a vegan recipe with lentils. It's bursting with flavor and takes about 30 minutes from start to finish.
Check out this recipe
Pantry Rice and Bean Soup
Throw together this 30 minute rice and bean soup with a handful of pantry ingredients. This soup can be made in one pot, with uncooked rice, salsa, broth, seasonings, and whatever beans and veggies you have.
Check out this recipe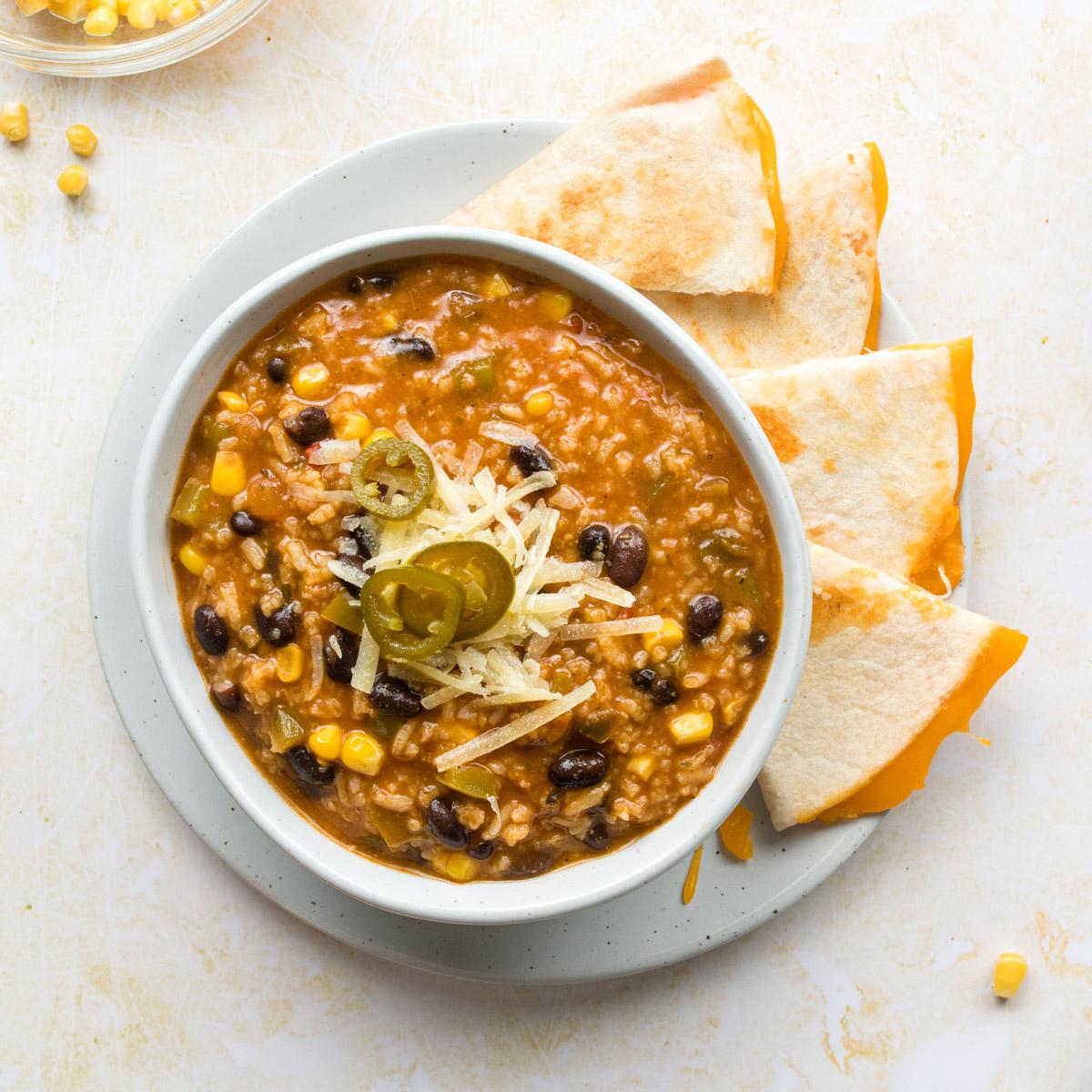 Refried Bean Tacos
These refried bean tacos are hands down the easiest and most delicious 10 minute dinner. All you need to do is scour your fridge and pantry for a few essentials like refried beans, taco seasoning, veggies, cheese and salsa.
Check out this recipe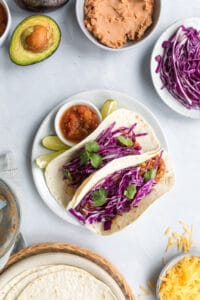 Delicata Squash Soup
Switch up your fall soup game with this easy 30 minute delicata squash soup. It's vegetarian (vegan if you want!), hearty, and bursting with flavor. Serve it with a grilled cheese for a delicious cool weather dinner.
Check out this recipe
Chapati Roll with Summer Vegetables
This chapati roll, or rolex as it's called in Uganda is the perfect super easy lunch or dinner recipe. All you need is an uncooked tortilla, eggs, cheese, and your fave seasonal vegetables.
Check out this recipe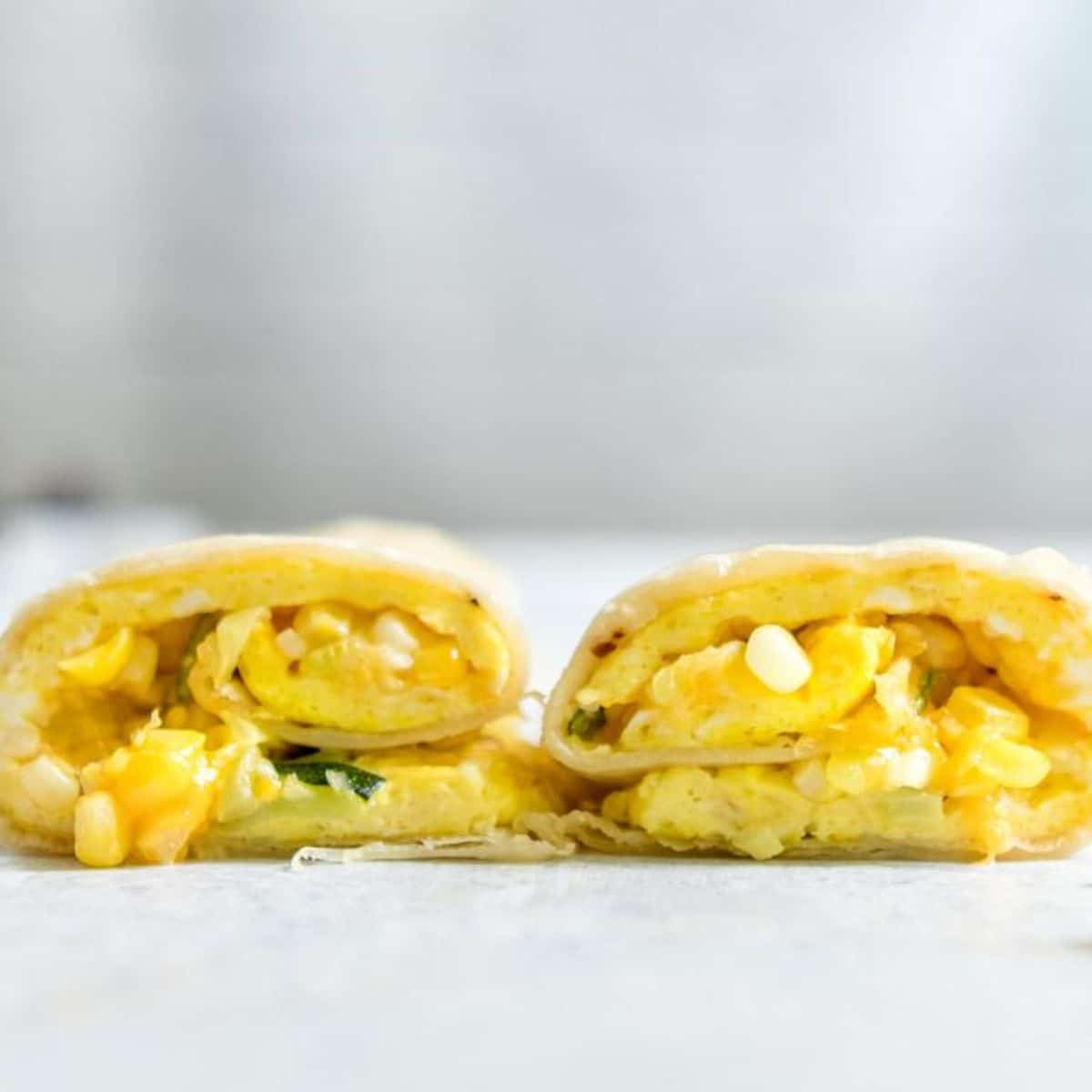 Warm Harvest Bowl with Crispy Tofu
This vegetarian harvest bowl with tofu, apples and maple glazed winter squash is a great make-ahead meal for lunches during the week, or a delicious vegetarian dinner. Batch cook each ingredient to use it in even more recipes for the week.
Check out this recipe
Pork Recipes for One
Pan Seared Pork Chop
This pan seared pork chop are the perfect one pan weeknight meal for one. It's delicious, easy, and quick.
Check out this recipe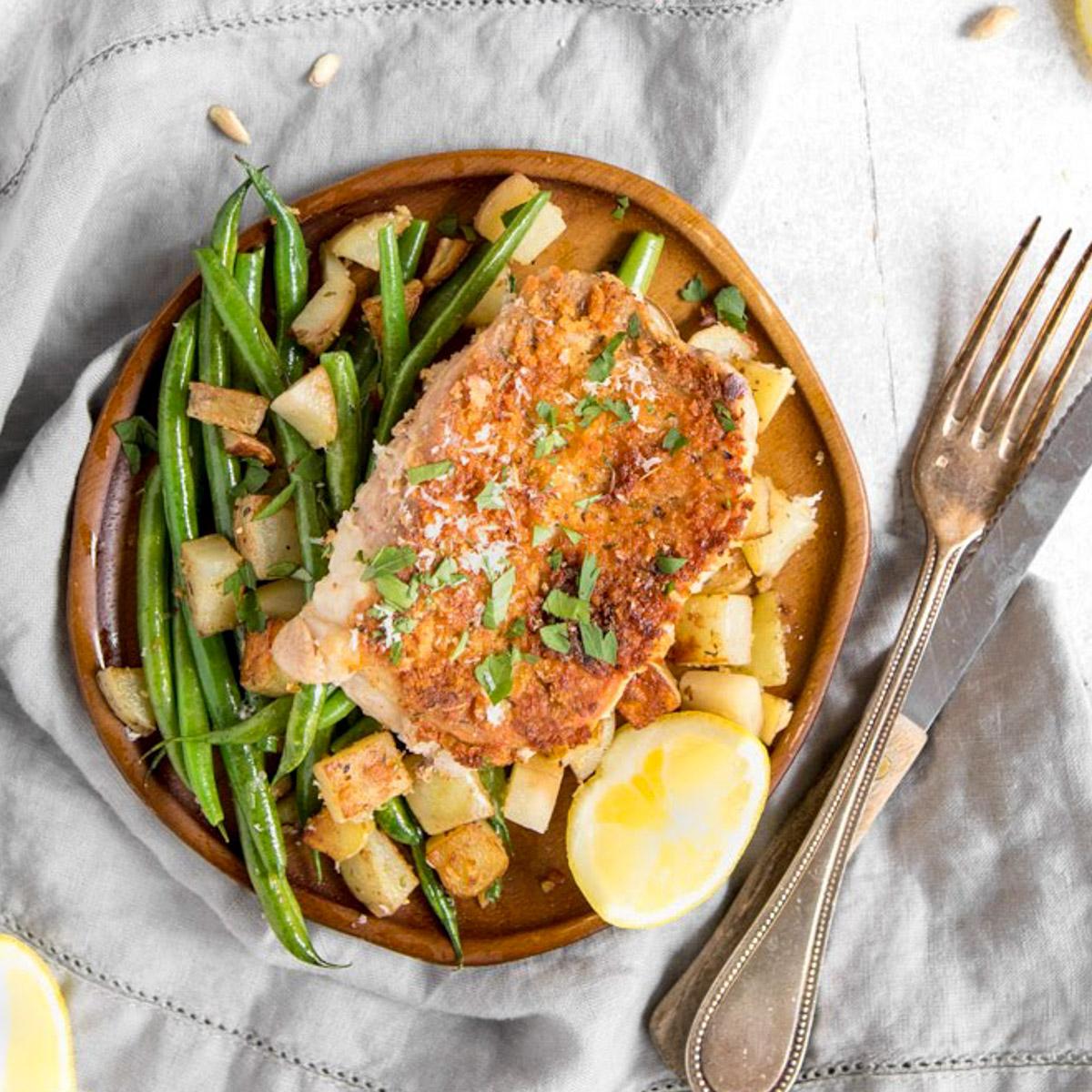 Easy Skillet Pork Chops with Apples and Vegetables
These easy pan fried pork chops with apples are the perfect easy meal after a long day. They cook up in 15 minutes and just in one pan.
Check out this recipe
Seafood Recipes for One
Jerk Shrimp Pasta
Make this jerk shrimp pasta if you're in the mood for a 20 minute dinner that's spicy, creamy, and bursting with flavor! It's similar to the Jamaican Italian fusion Rasta Pasta, but can be adapted to use up ingredients you already have in your kitchen!
Check out this recipe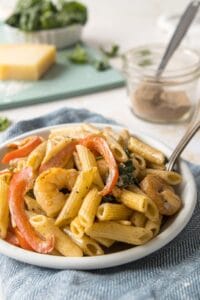 Instant Pot Fish from Frozen
This Instant Pot steamed white fish recipe is the easiest way to cook fish. Not only is it easy, but it comes out tender, flaky, and perfect in less than 15 minutes. Oh and did I mention that you can cook cod, tilapia, or halibut this way from frozen? No need to plan ahead or defrost it before cooking.
Check out this recipe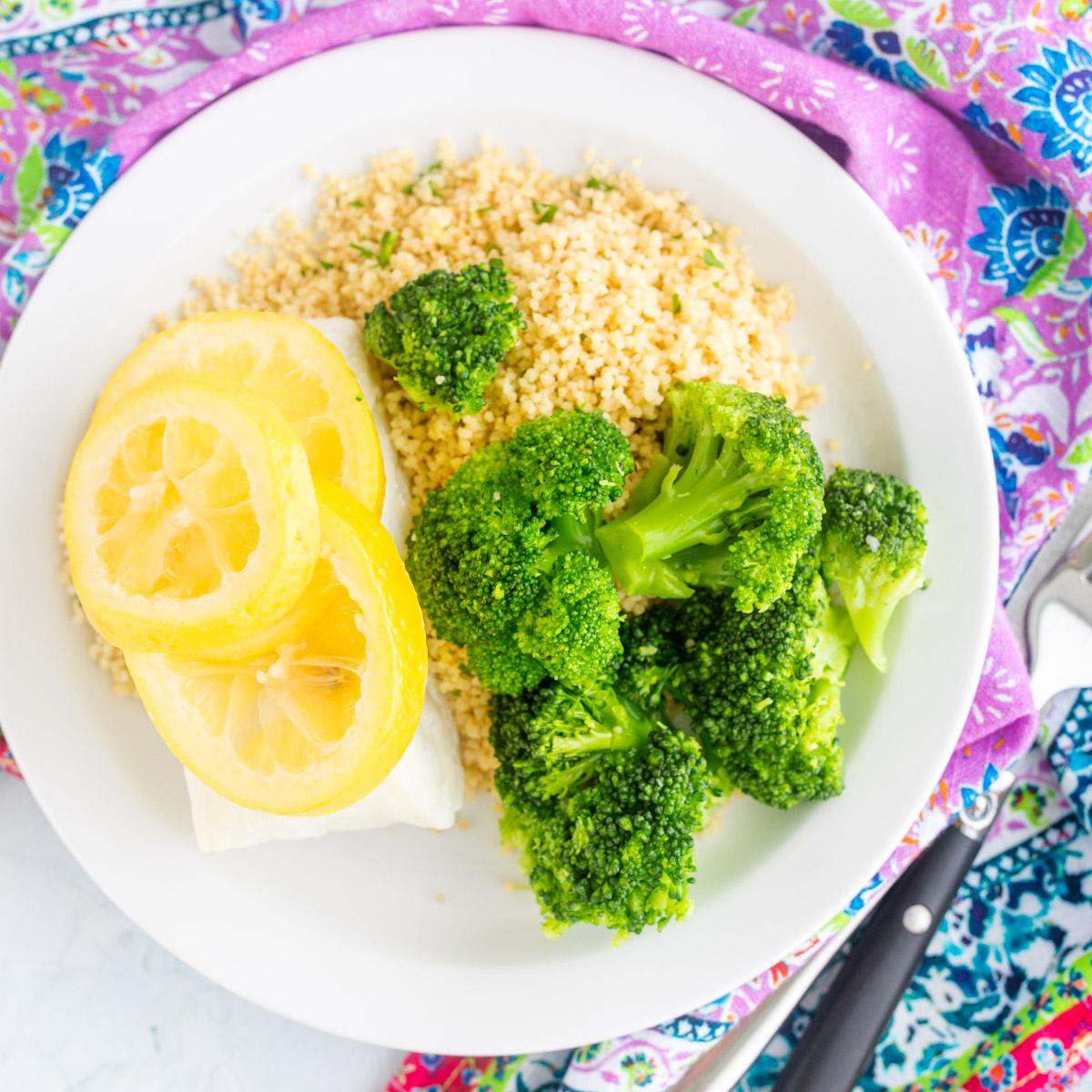 Cajun Foil Packets
Whether you're camping or need a really easy dinner that requires zero clean-up, these super simple cajun foil packets are perfect. They're filled with shrimp, potatoes, corn and other seasonal veggies.
Check out this recipe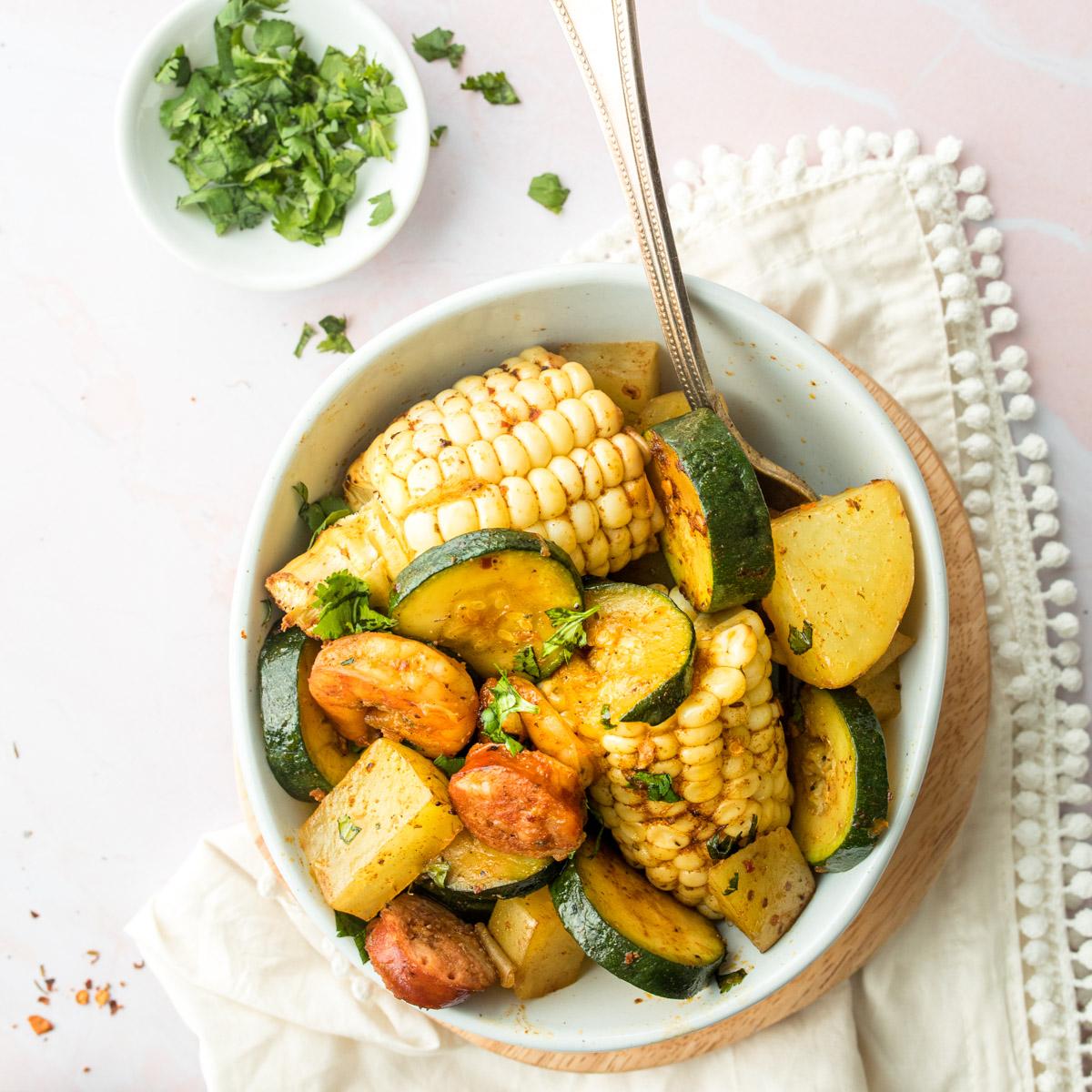 Easy Baked Salmon in a Bag
This easy baked salmon in a bag recipe is bursting with flavor and moisture, you wouldn't believe how easy it is, or that it's done in less than 25 minutes. It's cooked in parchment paper to maintain moisture without any effort. Plus, it's got the easiest clean up ever.
Check out this recipe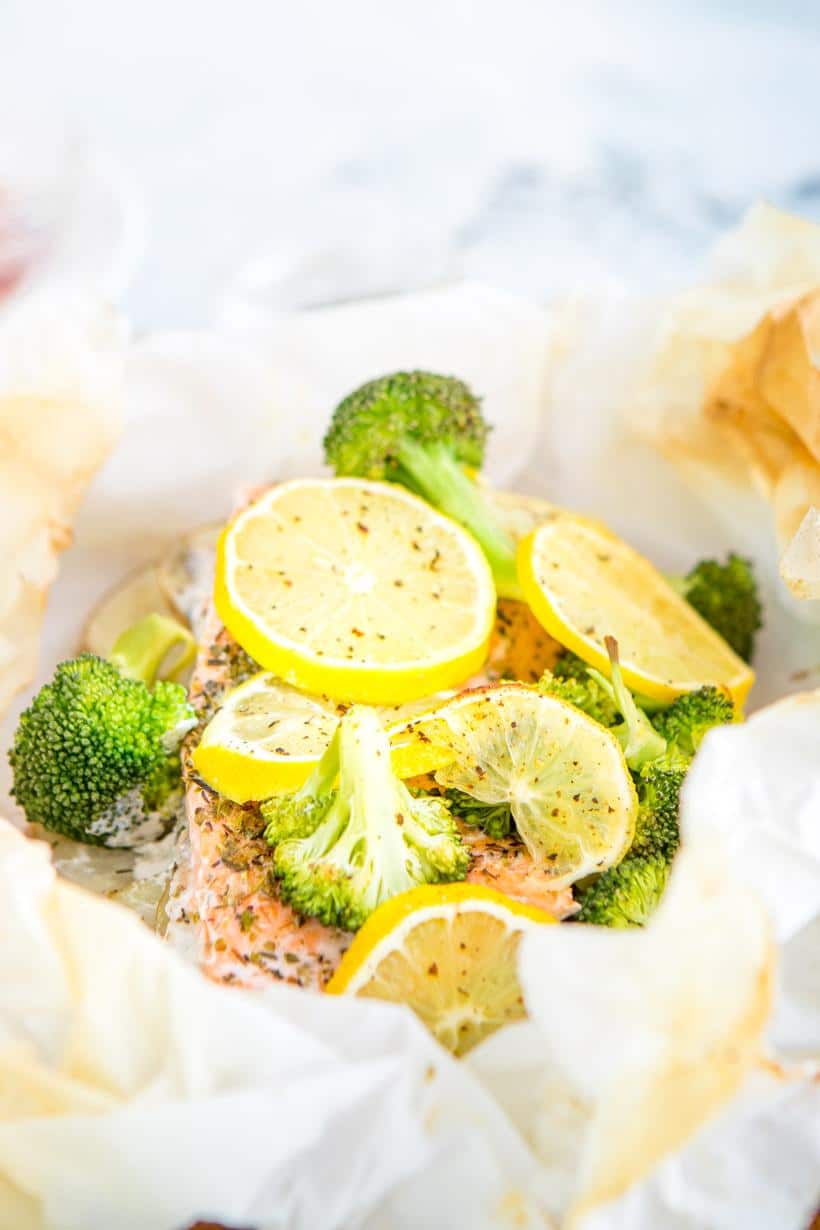 Fish Tacos with White Sauce and Orange Salsa
Enjoy fresh and flavorful fish tacos with white sauce during the winter by topping them with a sweet and tangy orange salsa made with Cara Cara oranges. What's even better is that this easy fish taco recipe has only 10 ingredients and is ready in 20 minutes.
Check out this recipe
Dessert Recipes for One
Biscoff Milkshake
This 4 ingredient Biscoff milkshake is the perfect easy dessert when you're in need. Caramel and cinnamon flavors of Biscoff cookies and butter, blend together with creamy vanilla ice cream for this delicious treat.
Check out this recipe
Strawberry Banana Milkshake
This 6 ingredient strawberry banana milkshake is a pantry staple for all strawberry ice cream lovers. It's packed with bright strawberry flavor and made with ingredients you can find in your fridge and freezer.
Check out this recipe
Single Serving Apple Crisp
This single serving apple crisp is the perfect easy fall dessert for one. It takes just 10 minutes to assemble, and about 30 to bake. It's good out of the oven, but honestly really shines at room temperature-if you can wait!
Check out this recipe
Butterscotch Milkshake
Easy milkshakes, like this butterscotch milkshake are a great spring/summer dessert to cool down with. This 3 ingredient milkshake takes just 5 minutes to make too
Check out this recipe
Single Serve Chocolate Chip Cookie
Make this single serve chocolate chip cookies when you're in the mood for chocolate chip cookies, but don't have freezer or counter room. It's really easy, delicious, and will leave you with one big crispy, gooey, chocolatey cookie.
Check out this recipe
Skillet Peach Crumble
You're just 15 minutes away from a warm dish of peach crumble. This peach dessert is made on the stove, and is the perfect quick summer dessert for one.
Check out this recipe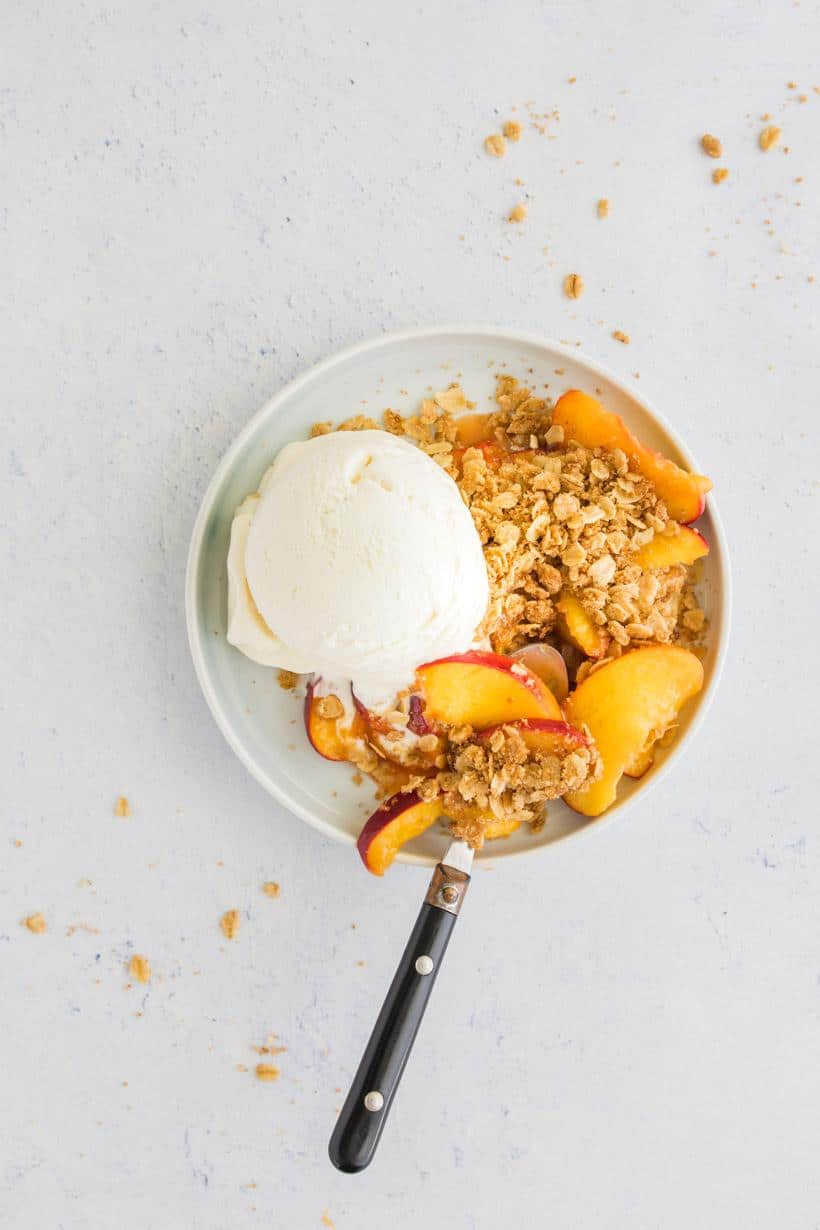 Did you make any of these single serving recipes? Leave me a comment & rating to share how they turned out!
Want to get more single serving recipes delivered to your inbox? Click here to download my Single Serving Cookbook.
Recipes are great, but you'll need a simple 3 step process to create a meal plan that make cooking easy & helps you stop wasting food. Check out this expertly developed meal planning guide to get started.