What's a pool day without some snacks? Chelsey Amer, RD, shares her 15 favorite healthy pool snacks that are both filling and fun.
Imagine it: The sun is shining, you feel great in your skin, you're (safely) soaking up the sun, and you packed a cooler full of pool snacks for when you get hungry. Sounds like the perfect summer day, right?
There's nothing better than a pool day… besides a pool day with awesome snacks! But the hot weather and festivities can often make eating healthy difficult. To help, I put together a list of my favorite healthy pool snacks that are both delicious and nutritious.
What Makes a Healthy Pool Snack?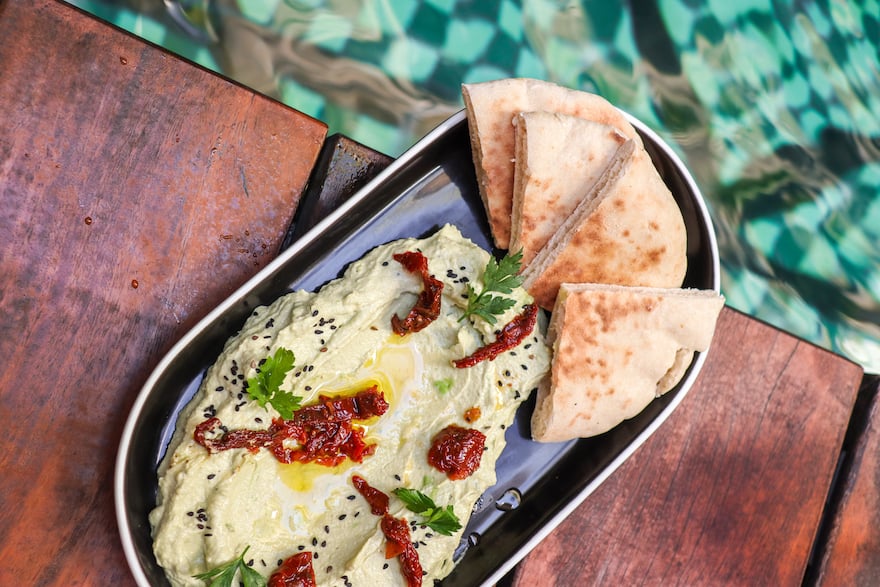 Healthy pool snacks need to be refreshing, easy to consume, and hydrating. And, like any healthy snack, they should have a combination of macronutrients (protein, carbohydrates, and fat) to keep you full. Here are some smart snacking guidelines to follow: 
Prevent dehydration with hydrating snacks. Sun exposure and a lack of water intake can lead to dehydration. But did you know that food is hydrating? Choose a snack with high water content to combat any dehydration from your pool day.
Include a combination of macronutrients to help balance your blood sugar and stay full. As a rule of thumb, I like to suggest combining two out of three of the following: carbs, protein, and fats.
Pick produce when you can. Most Americans don't consume enough fruits and veggies. Snack time is a great opportunity to boost your produce intake. As a bonus, fruits and veggies are some of the most hydrating foods.
Choose something satisfying. There's nothing worse than being hungry at the pool all day. Be sure to pack snacks that sound good to you— not just the lightest thing you can find!
Make it fun! Pool days are meant to be fun, so let your snack fit in, too! Healthy eating doesn't have to be boring, so get creative (carrot sticks are so 2005).
15 Healthy Pool Snacks to Pack on Your Next Summer Pool Day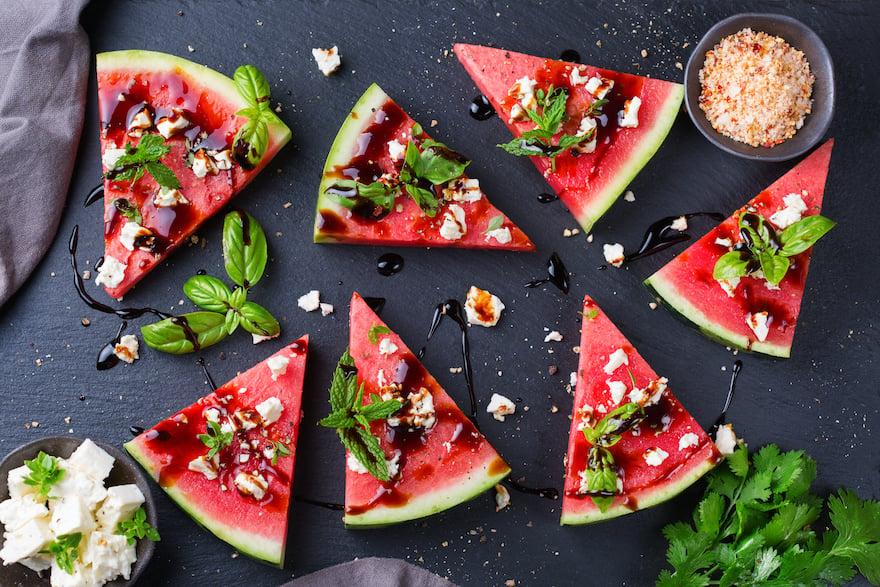 Is there anything more refreshing on a hot summer day than watermelon? I think not! Watermelon is 92 percent water, making it a great hydrating snack for your pool day.
Even more, watermelon is packed with the antioxidant lycopene, which gives watermelon its gorgeous red hue. Lycopene acts as a natural sunblock, protecting your skin against UVA and UVB rays (although you should still be applying sunscreen). Here are six more benefits of eating watermelon to convince you to pack it for your next pool day.
Watermelon pizza is a fun twist on a watermelon feta salad that's great for a crowd. The combination of carbs and fats will help keep you full so you can get back to your fun in the sun. For a lighter snack, try watermelon on a stick.
2 . Crudite and Hummus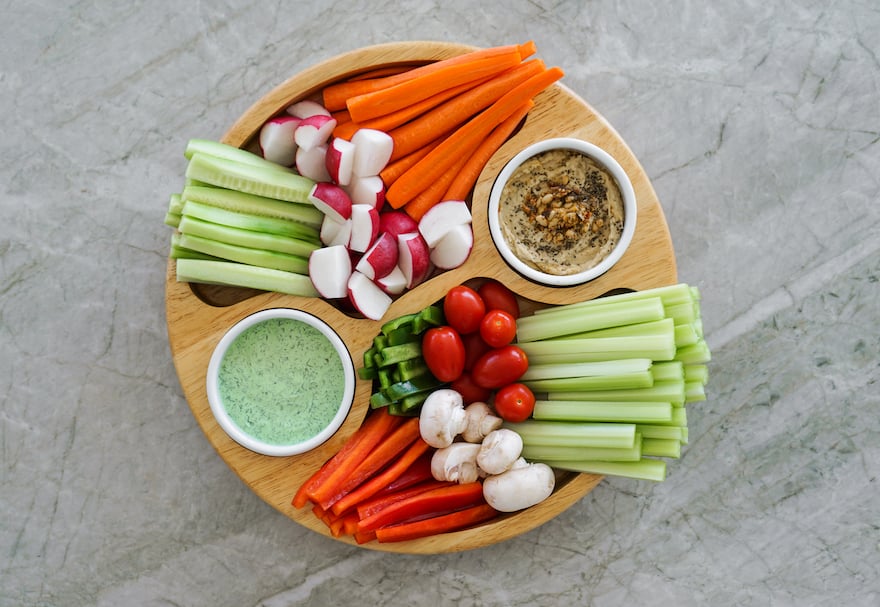 A great crudite platter is a party pleaser, but it won't keep you full very long. Add a trusty dip, like hummus, and you'll transform your crudite platter into a filling snack balanced with protein and healthy fats.
What's more, crudites and hummus are a great combination to boost your fiber intake, which can promote bowel regularity. Many people don't consume the recommended 25 or 38 grams of fiber per day for women and men, respectively. Moreover, most Americans do not consume the recommended five servings of fruits and veggies daily. A crudite platter with hummus can help close those gaps.
Not a hummus fan? Try one of these filling dips instead:
3. Summer Rolls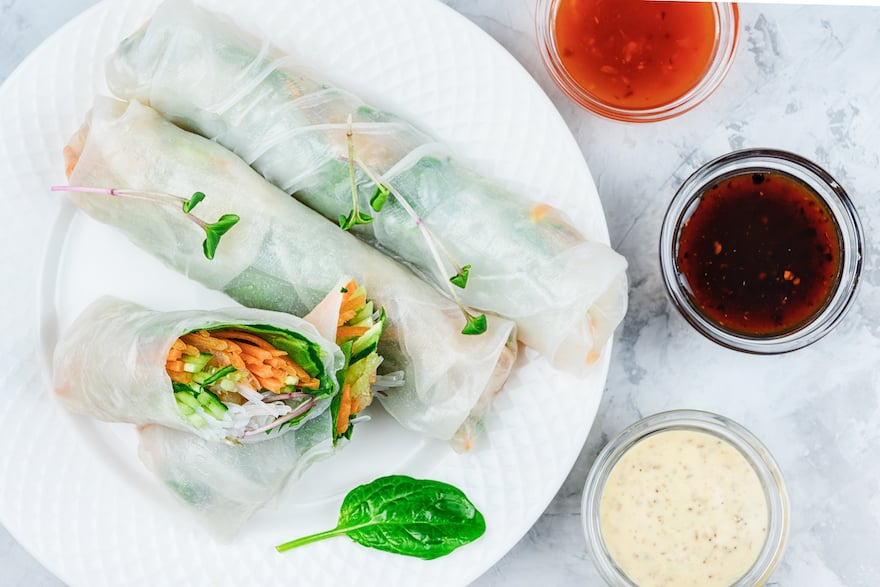 Pool snacks shouldn't be complicated, which is why I love snacks that have little clean-up and don't require utensils. Summer rolls fit the bill! Summer rolls are a Vietnamese-inspired dish with veggies and proteins wrapped inside rice paper.  
Summer rolls are a perfect choice because they're customizable based on what you have in your refrigerator (read: no last-minute trip to the grocery store required). Plus, they're a fun way to eat veggies. Next time you're at the store look for brown rice paper rolls for an easy way to add more whole grains to your diet. 
Try one of these combos for your next pool day:
Shrimp, shredded carrots, lettuce, and a peanut dipping sauce
Tofu, purple cabbage, carrots, cucumber, and mango
Smoked salmon, cucumber, and avocado
4. Sweet Greek Yogurt Dip
Greek yogurt is one of my favorite snacks because it's packed with protein and super filling. Plus, one serving of Greek yogurt contains over 20 percent of your daily calcium needs to help maintain strong bones.
To make your typical Greek yogurt more fun, try mixing your favorite nut/seed butter and a drop of honey into plain Greek yogurt. It's the perfect vehicle to scoop up refreshing summer fruit. Just make sure you keep the dip in a cooler so it stays fresh in the summer heat.
5. Rainbow Fruit Skewers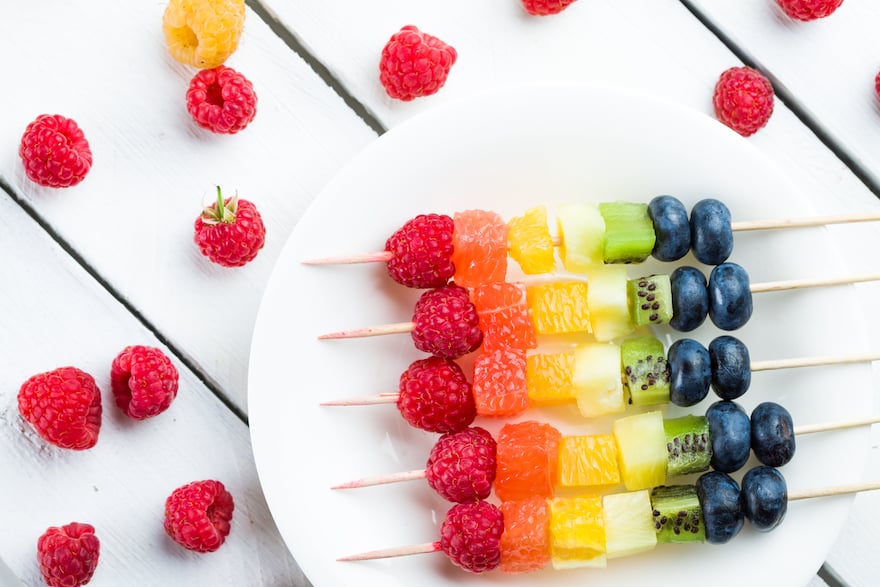 Rainbow-themed anything is way more fun, including these rainbow fruit skewers! Plus, the more colors you eat, the more nutrients too. Each color of produce represents different vitamins, minerals, and phytonutrients for you to consume.
Word to the wise: Fruit on its own likely won't keep you full very long. To boost its staying power, pair it with a protein-packed snack, like the Greek yogurt dip above.
6. Savory Ranch Greek Yogurt Dip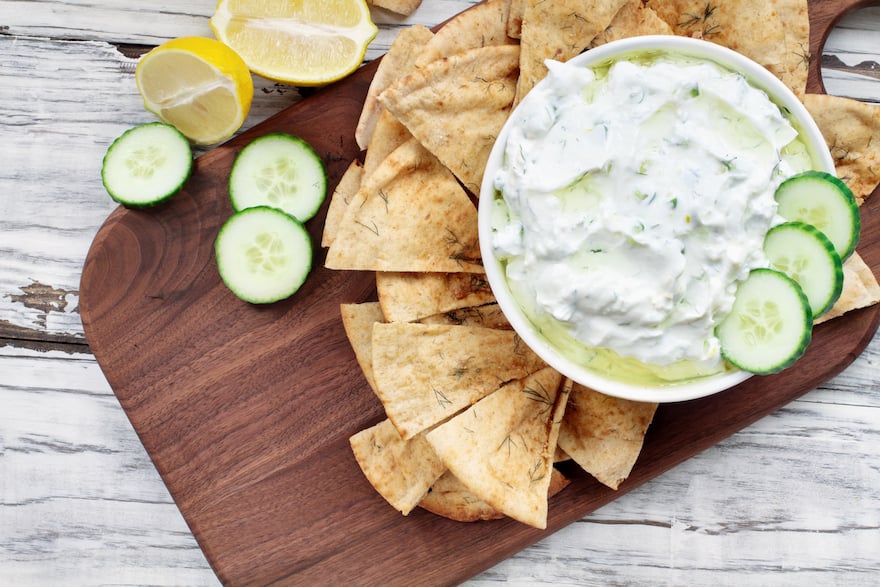 If sweeter snacks aren't your preference, you can always try a savory Greek yogurt dip instead. Also packed with protein, a savory Greek yogurt dip like this one, pairs well with veggies to make your usual crudite platter more filling and fun. 
7. Nature's Cereal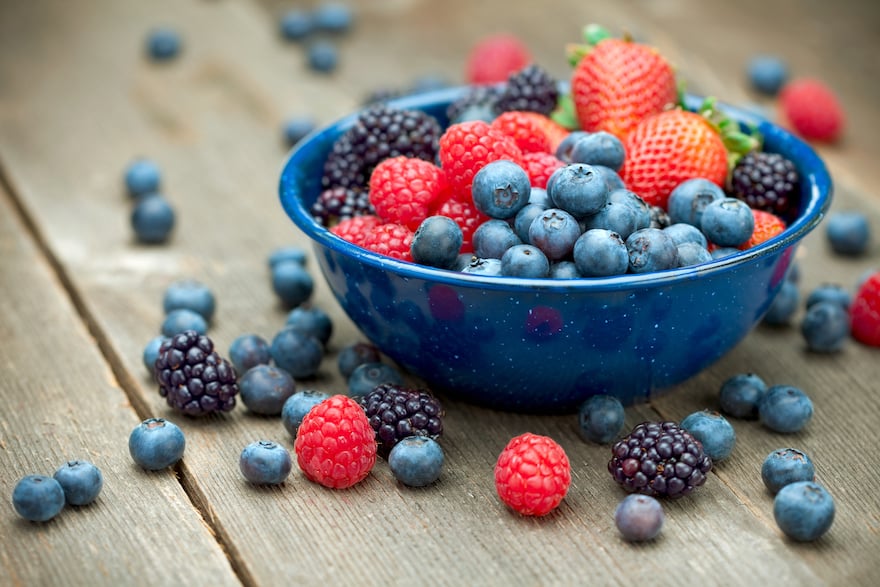 This viral TikTok sensation is a great healthy pool snack, although it does require some assembly poolside. Nature's Cereal doesn't actually contain any cereal at all. It is a bowl of fruit and coconut water, garnished with fresh mint. 
What makes this a good pool snack? Berries and pomegranate seeds are packed with vitamins, antioxidants, and fiber. Plus, coconut water is a great addition on a hot pool day because it's very hydrating. Coconut water is especially loaded with electrolytes, like potassium, to help prevent dehydration. Even more, it contains zinc, which can protect against UV rays.
If you don't feel like packing a bowl and spoon poolside, you can enjoy the combination of fruit and coconut water to stay hydrated and full. 
8. Apple Nachos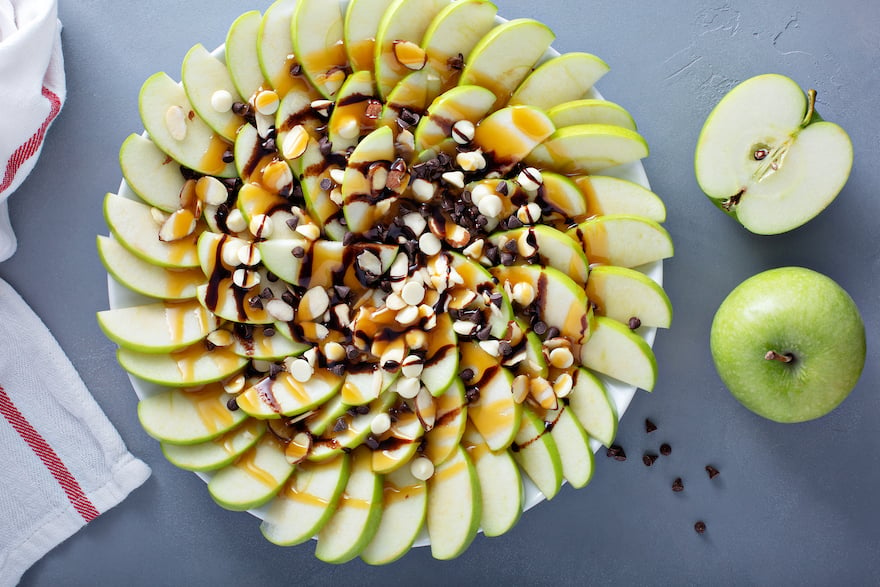 While an apple and peanut butter is a classic healthy snack, apple nachos are way more fun to eat.
Simply slice an apple and arrange it on a plate. Drizzle peanut butter, almond butter, or sunflower seed butter on top. If you'd like, sprinkle with shredded coconut for an extra pop of flavor.
One medium apple contains three grams of filling fiber. Pair it with healthy fats (like a nut butter) to help balance your blood sugar and stay full.
9. Edamame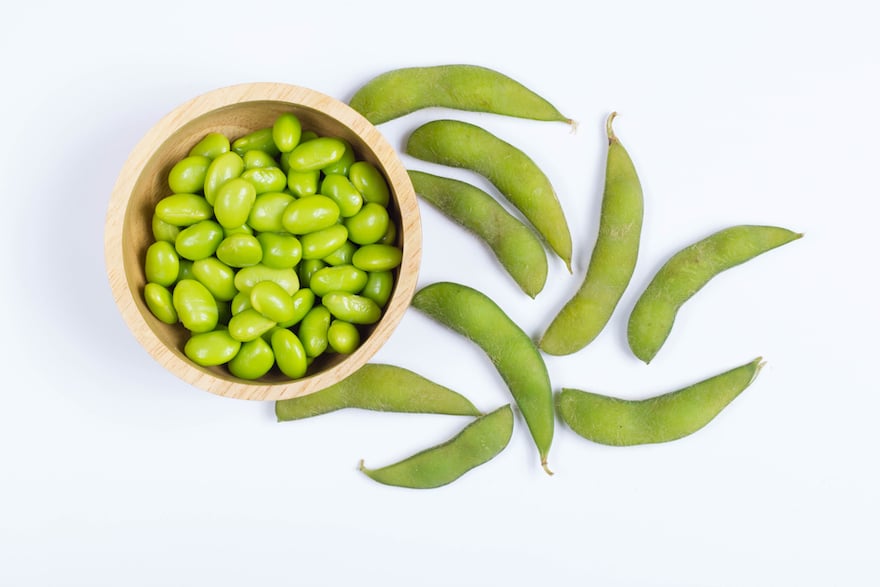 While you may associate edamame with your favorite sushi dinner, it also makes a great healthy pool snack. One cup of edamame (in the pods) contains 12 grams of protein and six grams of filling fiber. Edamame is also packed with vitamins and minerals, including:
10 percent of your daily value of calcium
20 percent of your daily value of iron
25 percent of your daily value of magnesium
115 percent of your daily value of folate
56 percent of your daily value of vitamin K
The best part about snacking on edamame? You can put frozen edamame in a bag or container straight from the freezer and it will defrost by the time you're ready for your afternoon munch!
10. Energy Bites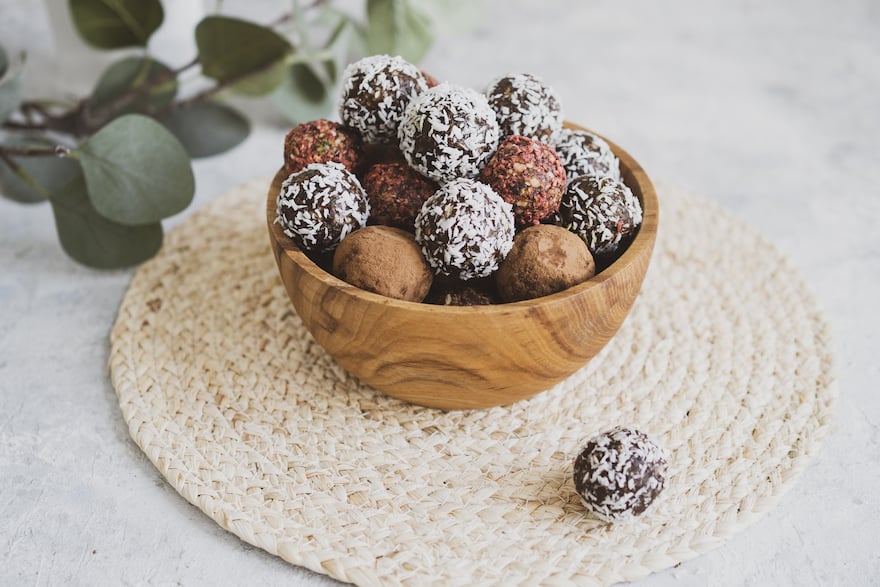 You need a lot of energy for all that time in the pool, which is why energy bites are a great healthy pool snack option.
There are countless ways to make energy bites, but most are made with a combination of dried fruit, nuts and seeds, and oats. These energizing foods come together to provide a burst of energy—perfect if you're swimming laps!
11. Chili Lime Roasted Chickpeas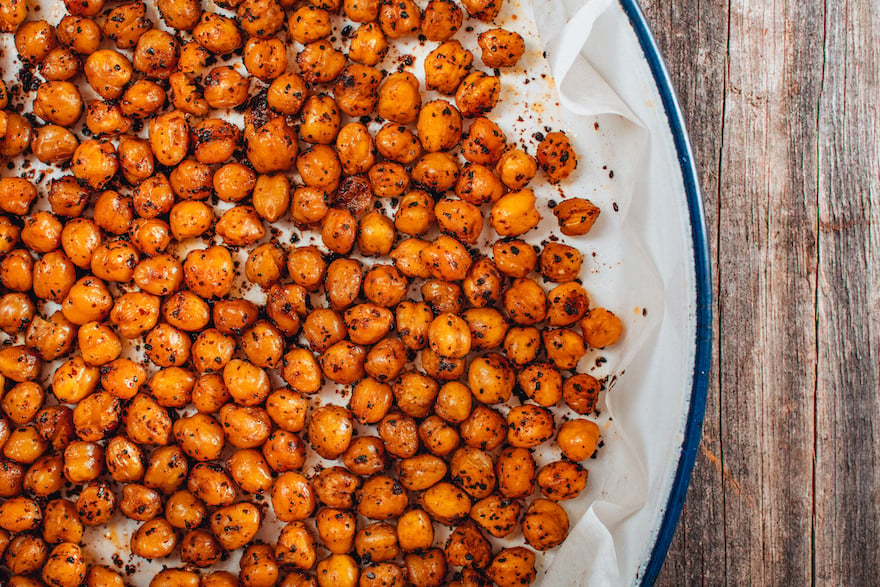 One of the most popular healthy snacks I recommend to my clients is roasted chickpeas. For a pool day, I like to amp up the flavor a bit more with chili lime seasoning. If you love savory snacks with a crunch, then you're going to love these. 
Chickpeas are a great pool snack because they're packed with both fiber and protein. A one-ounce serving contains six grams of protein and five filling grams of fiber.
You can buy them premade or DIY them in the oven.
12. Frozen Grapes
If you haven't tried frozen grapes before, then you're in for a treat. Grapes are sweet, hydrating, and delicious on their own, but when you freeze them they become a new refreshing snack with an interesting texture. Plus, they're mess-free—making them the perfect pool party snack.
One cup of grapes is an excellent source of copper and a good source of vitamin K, plus many antioxidants. Pack some peanut butter to add some healthy fats into the mix.
13. Cowboy Caviar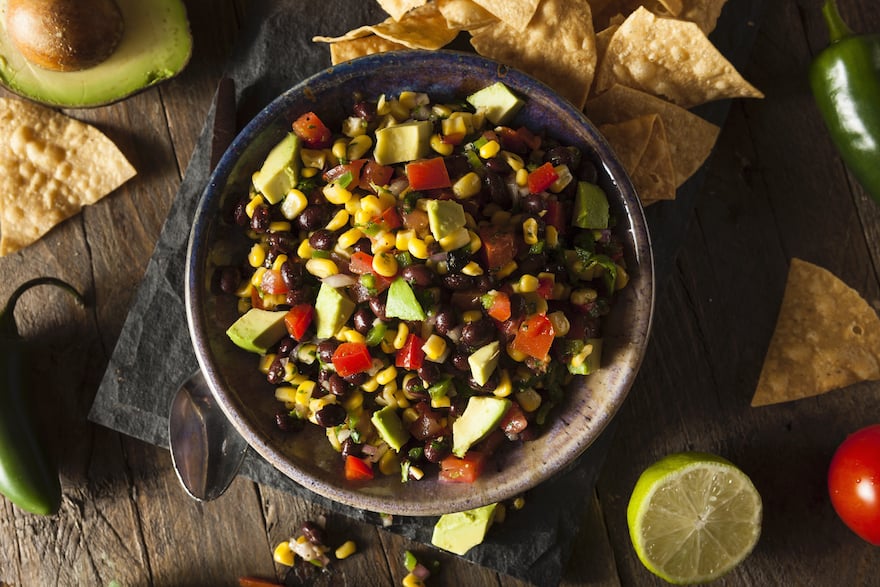 Looking for a healthy pool snack for adults and kids alike? Instead of chips and salsa, try serving cowboy caviar at your next pool party. Cowboy caviar is a combination of black-eyed peas, corn, tomatoes, and spices in a vinaigrette dressing. It's often served with tortilla chips, but you can enhance the nutrition by also serving carrot "chips" or wide bell pepper slices.
14. Mango Raspberry Popsicles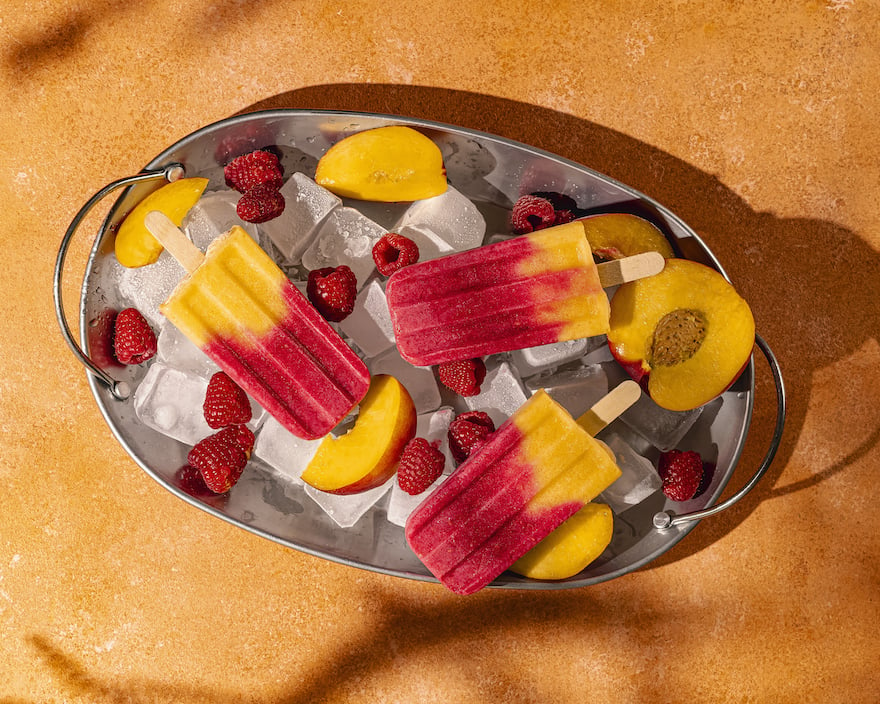 If you have access to a freezer, these Mango Raspberry Popsicles are a great pool snack to help you cool off. Unlike most store-bought popsicles, these homemade popsicles are made without added sugar and just a few ingredients. 
Mango is packed with vitamin C to help protect your sun from strong UV rays. Raspberries are loaded with antioxidants to also support the health of your skin.
Making your own popsicles couldn't be easier—you don't even need fancy molds! All you need are paper cups and popsicle sticks. Layer your ingredients in the cup and pop in the stick. Enjoy once frozen, about four hours later.
15. Summer Quinoa Salad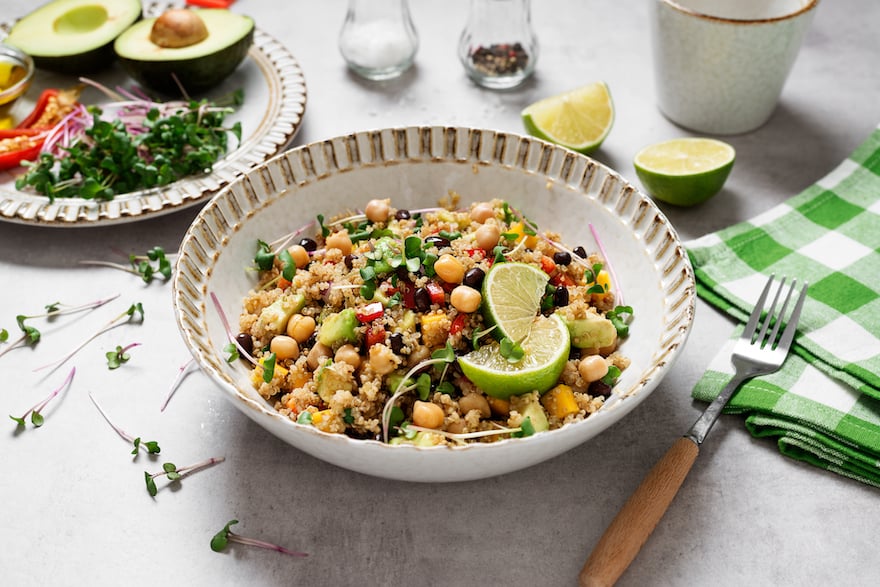 Think outside the snack box when it comes to your pool day eats. Who says you can't snack on a delicious Summer Quinoa Salad?
Quinoa is a grain-like seed that contains more nutrients than most grains. Plus, one cup even packs eight whopping grams of protein and omega-3 fatty acids too.
This salad gets better as it marinates over time, so prepare in advance and enjoy all week long as a pool snack or part of lunch.
The Bottom Line
No one wants to get hangry while enjoying their pool day, so be sure to pack one (or more) of these snacks for a fun and delicious day. Whether you prepare a quinoa salad or head to the store to pick up crudites and hummus, be sure to keep food safety guidelines top of mind when packing your pool snacks. When in doubt, keep your snacks on ice.